Yep, we've bought a truck! :lol: :D
We couldn't keep it to ourselves at the AO show, so many of you already know, but I thought I'd start the project off by sharing some photos of our Steyr 12m18 with an empty Zeppelin FM2 and the journey to get it.
We picked it up from the previous owner in Berlin without any problems. Well, that would actually be a lie.
Nothing else seemed to be going smoothly. The money transfer took longer than expected, so we had to stay another day in Berlin. That was ok though as it gave us some time to tour the city and see the Berlin Wall and Checkpoint Charlie.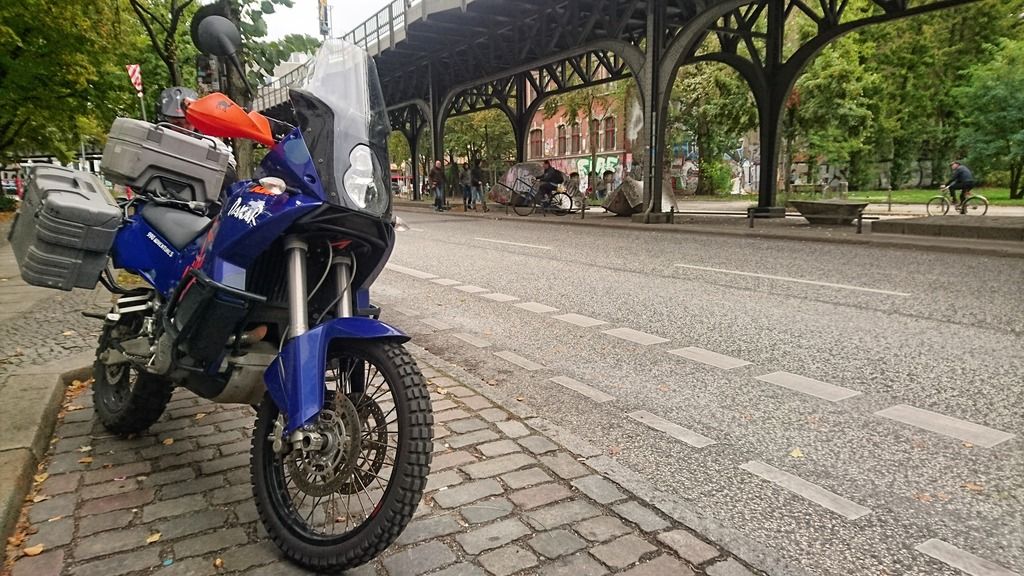 Then my KTM (which we had ridden over from England on) developed a pin hole in the exhaust, then a crack, then a portal to another dimension! So, new exhaust needed. It was not repairable, so we limped it to KTM Berlin who got one on order for next day delivery.
Thankfully shortly after we left KTM, I got a call to say the money had reached the seller. Perfect. So we went round to his workshop where he took me on a test drive and then helped us load the KTM into the Zeppelin box. All paperwork done, we wished him well and drove straight to the petrol station and brimmed the 180ltr tank ready for our journey back to Frankfurt.
But no, not so fast. We had to wait till the following morning to collect the new KTM exhaust. So we headed out onto the autobahn out of the city and down south.
It is worth mentioning at this point that we were now thankful to be in a 6 ton truck and not on the KTM. The wind was bad on the journey over, but it had picked up so much over the day and into the evening we encountered numerous downed trees and rather large branches all over the road. Even on the autobahn. We can't say the big branches phased us as we just drove over them, but we did get halted at one point when a huge tree came down right in front of us (see photo).
This is where we really experienced the amazing turning circle of the Steyr. We had no problems turning in the road, but we felt sorry for the artic truckers who had no chance.
After turning around, we found a REWE store to stop and get some food supplies. Whilst not busy at all, it was good to fit the truck into a regular space (apart from my not being used to the front being the actual front!)
So, we had our first meal in the truck. In the cab, with pasta and nibbles as we had no cooking facilities, in a truck stop on the A13 in the forests south of Berlin.
The following morning (at 6am) we headed back to KTM and waited for them to open. New exhaust was acquired and we promptly headed off to Frankfurt area. We had stayed with friends in Frankfurt on the way out, but this visit was to take the truck to Steyr specialists Excap. They are doing a few mods to the truck and also giving it a check over.
We didn't get to Frankfurt till late, so had to sleep in the truck in the countryside a few km's from Excap. We slept in the Zeppelin box most of the night and it wasn't too bad temperature wise. We just missed some bedding and, um, a bed.
We woke in the morning to a nice view of a Bavarian village in the fog though.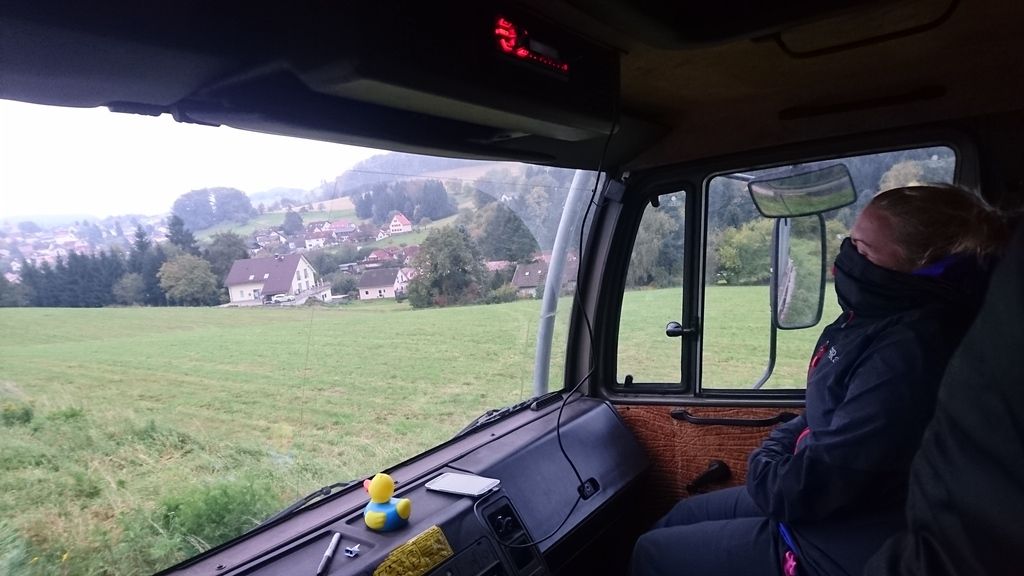 As soon as we had woken, we were straight round to Excap to drop the truck off. Stefan, the owner, showed us around and was also kind enough to let us use his workshop to fix the KTM. So, in between drinking coffee and playing with the two guard dog Dobermanns, we replaced the front KTM exhaust pipe.
A few photos from Excap. A really impressive place. Stefan and his team really know their stuff and go to the attentions of detail that I like. It was also really good to see all the different trucks in various stages of restoration or repair, or upgrade. I must add, we are not having a full restoration!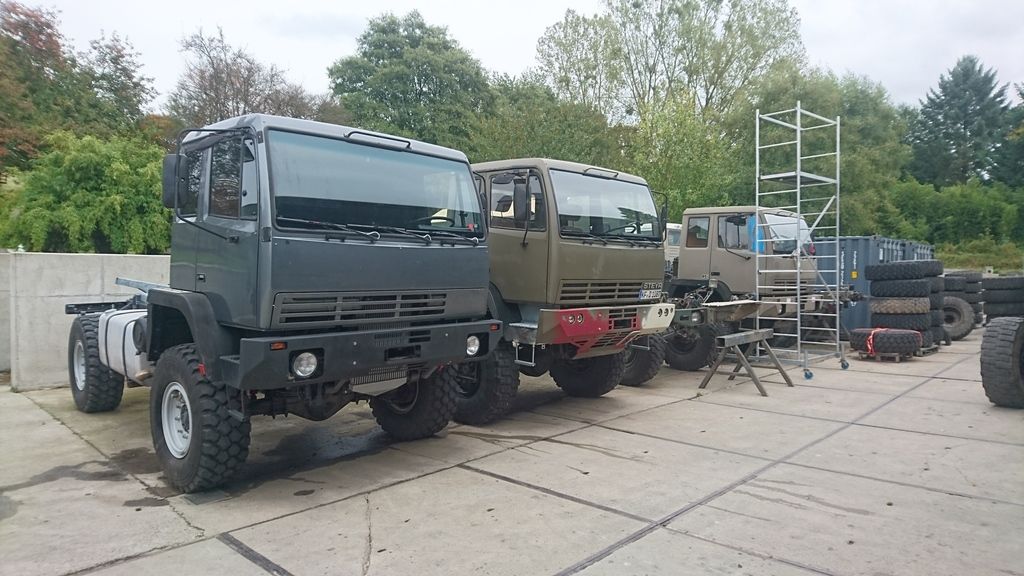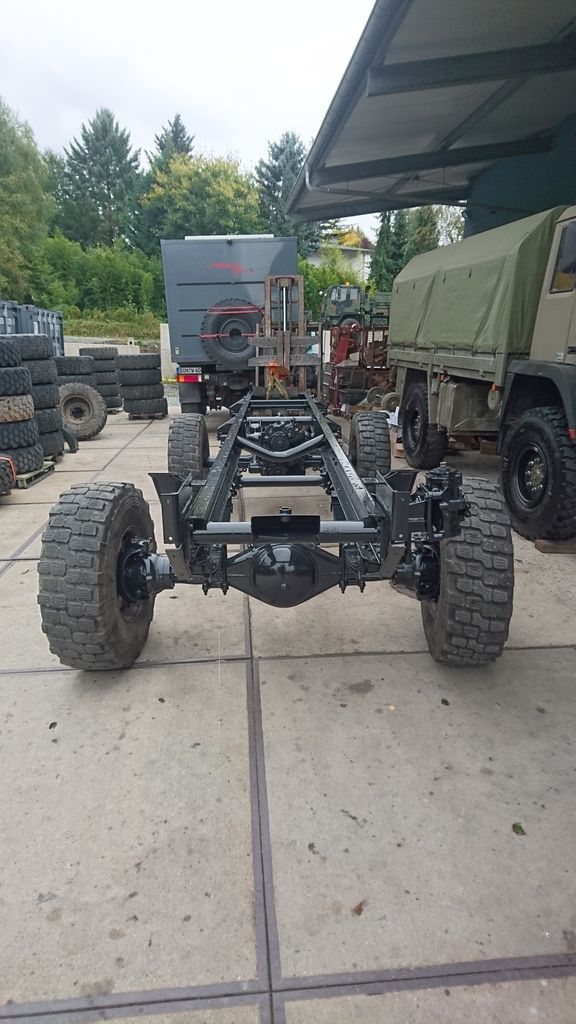 KTM repaired, repacked and ready for a mad dash back to the ferry.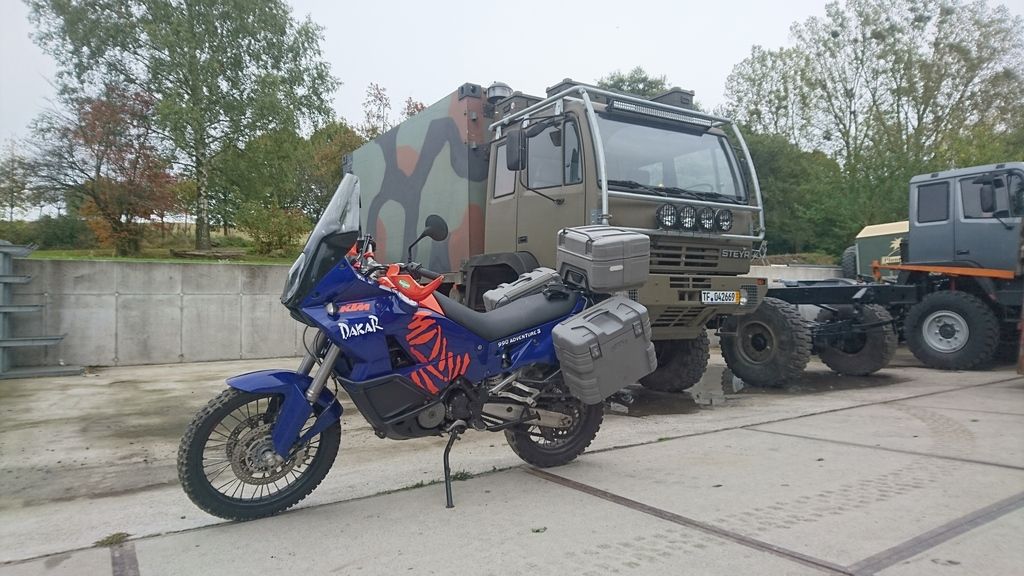 All in all, quite an adventure just to collect the truck. We made it back to the UK alive, despite some truly horrible conditions to ride a motorbike in, between Cologne and Calais.
Well, I say Calais.... I wasn't going to bother mentioning the chaos that followed, but I guess it adds to the story!
After leaving Excap we ran out of fuel on the autobahn near Wiesbaden. It was my fault as I was rushing. The bike only just ran, so I managed to limp it the 6 or so km to the next services on the hard shoulder. It finally conked out 100m from the fuel station entrance!
So, fueled up again, we headed back out on our mad dash for Dunkerque. Yep, I said Dunkerque. Through wind and rain we made it to the DFDS Terminal with 30 minutes to spare. The only problem was there were no ferries going from Dunkerque! The nice lady at the check in desk said there is one leaving Calais in 30 minutes, but she said it is a 35 minute journey. I said I'd give it a go and she agreed to show me out of the emergency gate.
So, despite a seriously hairy ride from Dunkerque to Calais, including an off road special stage and wind that was making trucks wobble, I got us to the gate in 22 minutes and straight onto the ferry.
The End.